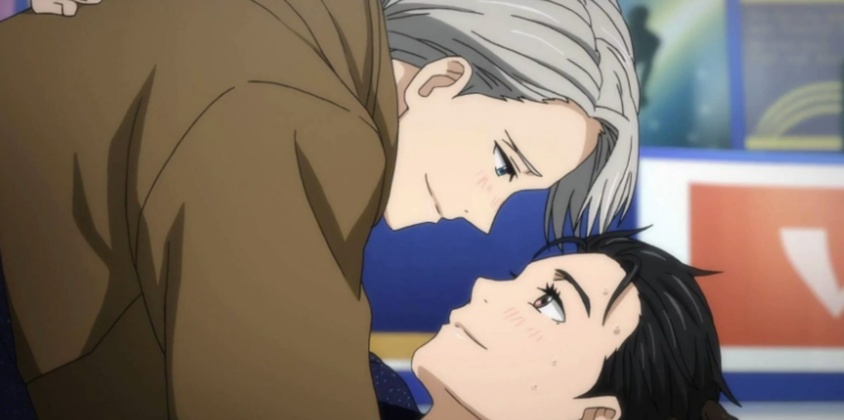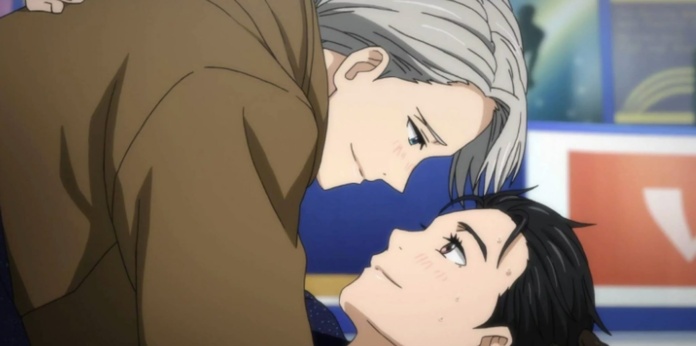 Boys Love (BL), or Yaoi, has seen a steady increase in fans over the past few years. Chasing Anime has compiled the top 30 yaoi anime for you.
Explaining Boys' Love – What is Yaoi?
Yaoi (やおい), also known as Boys' Love (BL), is a genre of literary works featuring relationships between male characters.
What does BL (Yaoi) mean in anime and manga?
The Boys Love (BL) genre, or Yaoi, is one of the literary genres usually shunned or discussed in secret. However, the recent spike in its popularity only means that more people are reading and watching works of this genre.
Yaoi or BL generally includes light novels, manga, and anime created by and intended for women, sometimes called fujoshi (lit. "spoiled girl"). It basically refers to works by women, for women. Yaoi content is usually understood as the result of female imagination of what male same-sex relationships are like.
A usual characteristic of yaoi anime is that the male characters usually play one of two roles. Seme, or top, usually refers to the more active and aggressive character in the relationship. Meanwhile, the uke, or bottom, is usually the more passive and submissive part of the relationship.
As a genre in itself, yaoi covers a wide range of other genres. It ranges from the standard slice of life, dramatic rom-com, to science fiction, and period dramas.
What is the best BL or Yaoi anime
While Boys' Love (BL), or Yaoi, is often sidelined in favor of more mainstream stories, it has its own fanbase. However, the recent spike in its popularity only means that more people are reading and watching works of this genre.
To get you started, here are 30 of the best Yaoi anime we can recommend. Of course, we include pics and teasers whenever available. However, we will be keeping is wholesome over here and leave the spicier scenes for you to find out.
1. Super Lovers
MAL Score: 7.31
Compared to most entries in this list, Super Lovers does not really have heavy yaoi scenes. It's a lighter take on the genre, scene-wise. But the story itself might get confusing at some points in this series by Miyuki Abe. Its twists and surprises are reminiscent of the Mexican telenovelas of old. A lot of drama, and steamy/ confusing scenes.
It follows Haru Kaidou who was tricked by his mother, Haruko, to return to Canada since she's "dying". Upon arrival, he is thrust with the responsibilities to "babysit" his new "brother" – Ren, who prefers dogs than people. Haru tries his best to understand and get closer to Ren. Watch how they eventually became closer, before the standard storytelling wrench is thrown in their relationship – including a car crash and a case of amnesia.
After six years, Ren moves to Japan only to find out that Haru does not remember him anymore. This time, it was Ren's turn to rebuild their bonds and get close to Haru. As far as steaminess is concerned, it only gets better (fujoshis be warned) the further you follow the series.
Also, though it appears to be clear who among the two MCs is the seme and the uke, Haru and Ren are not strictly limited by these roles. This makes the development fluid, relatable, and interesting.
It doesn't really focus on the physical relationship between the adoptive siblings as much as with their emotional development. With Super Lovers, it straddles the line between what is and is not possible, getting you as close to an incest story without actually doing so. However, if you like light-hearted, melodramatic yaoi to watch, Super Lovers is a good start.
2. No. 6
MAL Score: 7.62
Its both sci-fi and yaoi, a perfect find for our more techie fujiyoshis out there. Its title, "No. 6," actually refers to one of the surviving city-states. After a world war almost drove mankind out of existence, half of mankind has banned military forces and created six territories.
Enter Shion, an elite young boy in city-state No. 6, who encounters a fugitive named Nezumi. His charitable act would cost him and his mother their elite status, losing the life he knew and now being forced to live in the bowels of the city. After some time, it becomes Nezumi's turn to save Shion. They stay together as they begin on an adventure together and uncover the secrets behind the perfect city-state No. 6.
For fans of the George Orwell classic, "1984," No. 6 will definitely strike a chord on two on a totalitarian regime. While they have different backgrounds, they connect and fall in love with each other. It is suspenseful at times and surprisingly touching at the end. For the perfect mix of toppling an oppressive regime and finding love in a hopeless place, No.6 should be your No. 1 choice.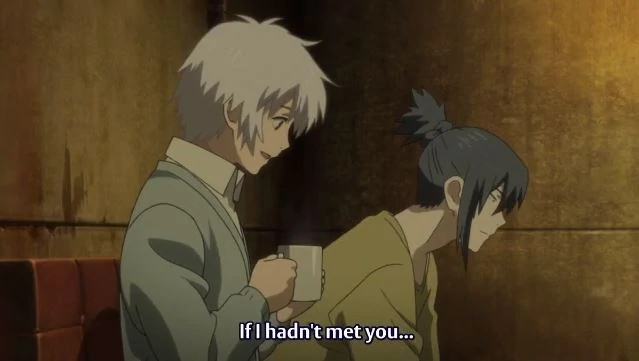 3. My Very Own Hero (Hitorijime My Hero)
MAL Score: 7.53
It's fairly school-based with a bit of the gangster genre thrown in. Hitorijime My Hero also follows not one, but two yaoi couples. We have the teacher-student relationship between Kousuke Ooshiba and Masahiro Setagawa. On the other hand, we have childhood friends getting back together as something more with Kensuke Ooshiba and Asaya Hasekura. And yes, Kousuke and Kensuke are siblings.
Masahiro Setagawa has become an errand boy for a local gang, in his search for a place to belong. He was saved by a local fighter known as the Bear Killer, who, as it turns out, is the older brother of his friend Kensuke. Meanwhile, after getting separated from his childhood friend, campus crush Asaya Hasekura returns to their town to everyone's admiration, except for his childhood friend and secret love Kensuke Ooshiba.
Sounds complicated? We think so too – and that is the beauty of it. (explain) A bit of disclaimer: the twelve-episode anime only covers the first two volumes of the manga. But still, the anime progresses well and has its fair share of ups and downs. Masahiro and Kousuke face more challenges as the series progresses. Whether the anime continues or not, we can't say for certain at this point, but some of us here are waiting and hoping.
4. Yuri!!! on Ice
Although it is Yuri!!! on Ice, it is actually widely classified as a Yaoi anime. Get it, huh? Anyway, it was really, really huge when it came out as an anime back in 2016. It managed to introduce figure skating to a wider audience. Yuri!!! on Ice smashed preconceptions and created a sports anime filled with action and suspense. And love.
While people would immediately judge an anime to be about figure skating as immediately gay, Yuri!!! on Ice is so much more. It highlights the sport and the competition, which is as fierce as any other sports series. This yaoi anime follows the 23-year-old Yuri Katsuki, who is in a career slump after a series of disappointing losses.
During one of his practice sessions, he tried to copy a very difficult figure skating routine from Victor Nikiforov, a Russian skating legend. He did it perfectly, someone recorded him secretly, and Victor found it. He later travels to Japan to offer his coaching services and his talent to revive Katsuki's dying career.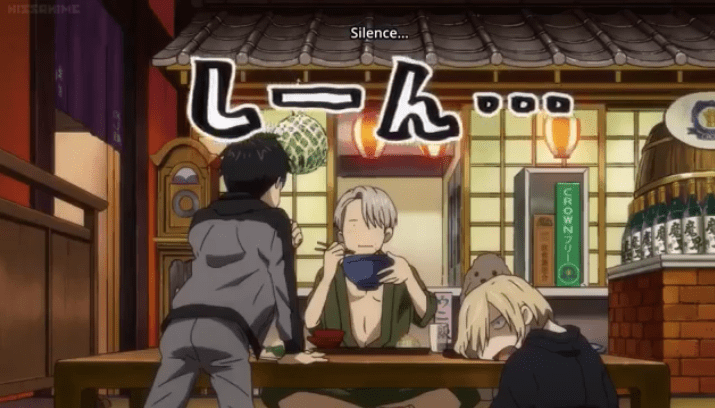 The wrench in the smooth-flowing partnership between Yuri and Victor, surprisingly, is another Yuri. Yuri Plisetsky, a rising Russian skating genius, also flies to follow on a vow Victor made to him. Victor promised Plietsky a choreographed routine. Yuri K (the Japanese) and Yuri P (the Russian) both received choreographed routines from Victor. The Japanese got "Eros" (sexual love) and the Russian, "Agape" (unconditional love).
This is for fujoshi looking for something brave, yet pure. For a mainstream anime, it showed a couple of daring scenes portraying BL on the screen. While it was criticized for being rose-colored, with Yuri K and Victor supposedly not getting enough hate as it would be in the real world, it still came out as a flagship yaoi show. It is not overtly sexual, and there is character development explored in the episodes.
5. Classmates (Dou Kyu Sei)
Also known as Dou Kyu Sei, Classmates is a 2016 film that follows Rihito Sajou and Hikaru Kusakabe. In the western pop culture, it draws a few parallels from the hit TV series Glee back in the early 2010s, minus the drama and the craziness that happens later on.
It finds two boys connected by music. Rihito Sajou is the standard nerdy archetype – an honor student, quiet and shy, and with virtually zero friends. On the other end is Hikaru Kusakabe, a guitar-playing stud who is not doing well academically. Both choir members, Hikaru notices one day that Rihito is not singing. What starts as an offer to help a schoolmate practices eventually grows into a close friendship and later, they begin dating.
Classmates, and its sequel Sotsu Gyo Sei (Alumni), is written by a female. However, Nakamura-sensei made an art out her storytelling. Unlike other yaoi series with intense and physical scenes, Classmates is a slow burner. What's more, none of the characters actually start out as gay. Whether they were actually straight at the start or were one of them closeted, it was not explicitly mentioned and left to viewers' discretion. However, it was the slow development of their affection for each other that makes this anime stand out.
Whether it was the low-energy slice-of-life, the simplistic animation, or the soothing acoustic music in most of the scenes, Classmate is an interesting coming-of-age yaoi anime to see.
6. Given
MAL Score: 8.27
Given manages to tread that thin line between an interesting story and a must-watch development between two male characters. It does not rely on NSFW scenes to get the fans going, and their daily lives and interactions with each other is enough to leave the hearts of its fans aching for more. As a series that is based on music, it gives even non-BL fans something to enjoy.
It starts with the development between Ritsuka Uenoyama and his classmate and guitar student, Mafuyu Satou. Their relationship has attracted a strong fanbase, especially among ladies. Given did it with a layered connection between the two starting with something as simple as replacing the strings on a guitar. Ritsuka later discovers that Mafuyu is a great singer, and invites him to join their band.
The other half that develops over the course of the series is between their other two band mates – Akihiko Kaji and Haruki Nakayama. This part, however, is more on the manga is only lightly introduced in the last episode of the anime. In contrast to Mafuyu and Ritsuka's youthful, innocent relationship, this pairing between the bassist and the drummer is more mature. While Given is generally a vanilla series, without any heavy scenes, Akihiko and Haruki together maneuver through a more mature, rockier road.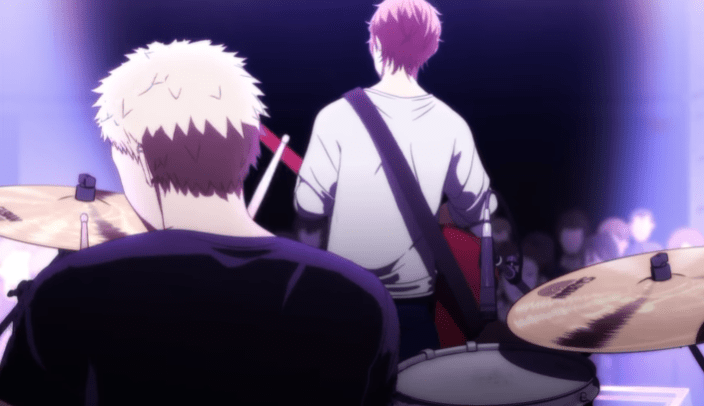 For non-fujoshi fans, there's a lot to watch out for in Given. It is a great music oriented series, with a relatable story for most who have tried setting up a band during high school or so. It also takes the effort to make the music believable, such as the details of Mafuyu's Gibson ES-330. The episode titles are taken from British alt-rock songs – from Radiohead's "Creep" to The 1975's "Somebody Else." Lastly, the songs performed by the band are something to look out for.
7. Saezuru Tori wa Habatakanai: The Clouds Gather
MAL Score: 7.57
Here is a rising BL anime fujoshi (and all fans of the genre) can't miss. It is, however, a mature movie to see – both in its scenes and in its story. While it does have its share of explicit yaoi scenes, it does not go straddling the line with incest and underaged characters, a red flag for some fans. It is like a better adaptation of 50 Shades of Grey, in anime format.
It follows Yashiro, the young leader of a Yakuza family as well as the president of the enterprise that serves as their group's front. He is one day assigned a new bodyguard, the young and rash Chikara Doumeki. Chikara soon discovers that his new employer is a masochist with an insatiable appetite. While Yashiro has a moral code of never touching his own men, he can't help but be tempted to taste the forbidden fruit that is Chikara. Furthermore, as the film progresses, the audience slowly finds out about their past as they come around their developing relationship, more than the simple employer-employee bonds.
8. Twittering Birds Never Fly: One For the Ages
A classy and suave yakuza leader meets the bear of a bodyguard fresh from prison makes for a good case of character-driven storytelling. Twittering Birds Never Fly, while appearing like an inappropriate title at first, is actually a sad summary of the events that shaped them and the fact that awaits the two of them, especially in the world they live in. It's not always sexual, or romantic, or action, as it even has a number of witty dialogues and smart exchanges. The anime film perfectly captures the cool and the dreary parts of living on the edges of law.
It is one of the rare yaoi anime that does not only pander to its audience. The Twittering Birds adaptation actually tells a developing story, using well-rounded characters, in an environment we have all seen in other genres. Furthermore, while childhood abuse have been the go-to explanation for sexually deviant dispositions in this genre, Twittering Birds leverage them in a way that shows how similar experiences lead to different outcomes, especially in adulthood.
Whew. Also, this February 2020 anime film already has a sequel in the works, Saezuru Tori wa Habatakanai – The Storm Breaks. As someone who has not read the source materials, I can only expect escalating tensions on this sequel. Whether it'll be a more intriguing analogue to Fifty Shades Darker remains to be seen.
9. Hybrid Child
MAL Score: 7.76
Another BL story set against a sci-fi background, Hybrid Child actually asks significant philosophical questions along the way. Where do we draw the line with artificial intelligence? The titular Hybrid Child is an android that grows with love and care from its owner. With its requirement for sustenance, it is inevitable that they develop strong bonds with their owners.
You have been warned: there are no happy endings in this short OVA anime. It tells three tragic tales, something that starts a lot like Chobits and ends like AnoHana or Fuuka (the manga). The first one follows Izumi Kotarou and the Hybrid Child he finds, Hazuki. Together, they surpass challenges – most of it Izumi's family. But nothing lasts forever, or so they say.
The second volume is about the swordsman, Ichi Seya, and his Hybrid Child Yuzu. It looks like nanshoku – an older male trains and teaches the younger one towards manhood (double entendre included).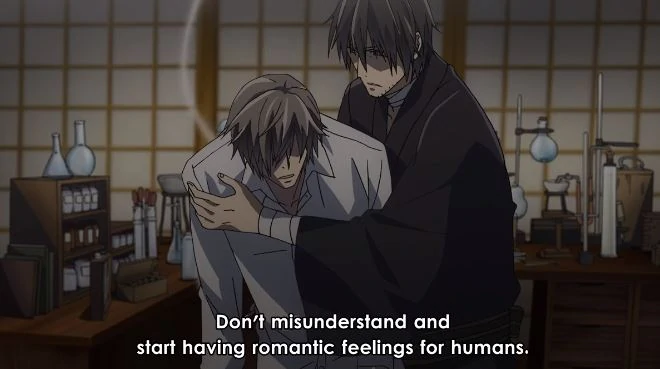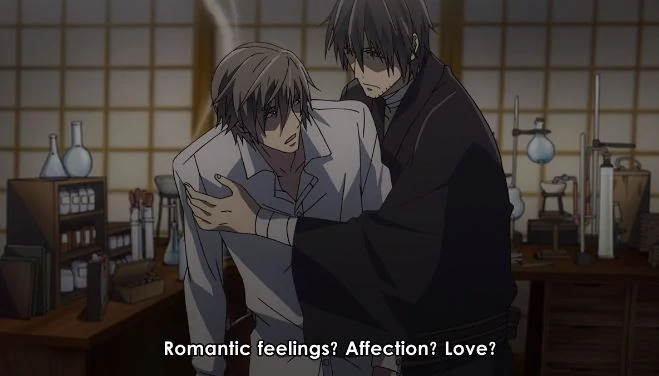 Lastly, the third chapter actually explores the story of the man who created these Hybrid Child models. A friend of Ichi Seya, Kuroda has his own tragic story. This ultimately explains why he came up with these lifelike machines.
Also, as a side note for sharp-eyed fans, Kuroda and his lover Tsukishima might look like Takano and Ritsu from another BL series, Sekaiichi Hatsukoi. It's because both series were made by the same author, Nakamura Shungiku, who also made Junjou Romantica.
10. Mo Dao Zu Shi (Grandmaster of Demonic Cultivation)
MAL Score: 8.53
Since its first release back in July 2018, Mo Dao Zu Shi or Grandmaster of Demonic Cultivation has been steadily among the most recommended anime, or technically a donghua, both for BL hunting fans and otherwise. In fact, it boasts the highest MAL score on our list (so far). Imagine those lengthy Chinese-language opera epics, but this time in awesome anime form, courtesy of Tencent again.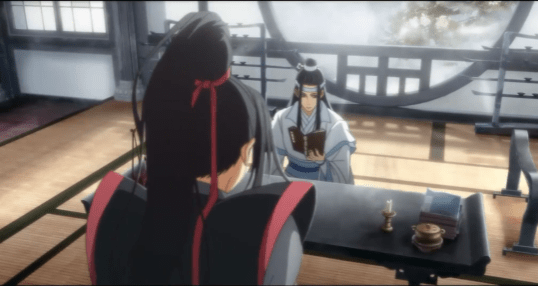 It builds on the Chinese fantasy world of gods and demons, generally termed Xianxia. Its visually fascinating world helps create a Romeo and Juliet BL story of epic proportions. It follows a man named Wei Wuxian. He failed to attain immortality, going astray and creating a demonic sect has caused chaos in the world. It led him to roam the world escaping from the punishment that awaits him. He was betrayed and was killed.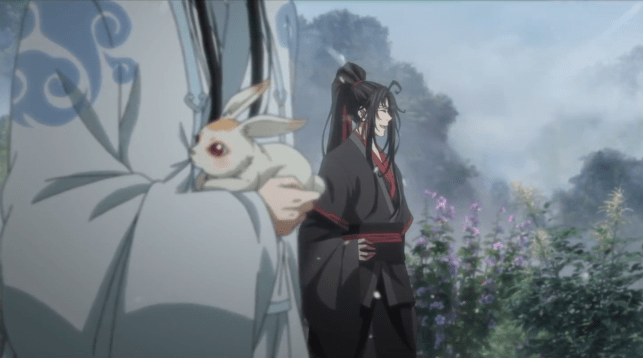 Wei Wuxian later reincarnates, only to cross paths with his archenemy and fellow cultivator Lan Wangiji. Their adventures together, starting as an uneasy alliance for survival, soon grows into something else. It has a grander world-building than the Saiyuki franchise. Its fight visuals comparable to Kimetsu no Yaiba. Lastly, its men are as beautiful as those in Given and Fushigi Yuugi. And to see Wei Wuxian and Lan Wangiji actually fall for each other, in the middle of the chaos that ravaged the world, is a definite treat for fujoshi everywhere.
11. Boku no Sexual Harassment
MAL Score: 5.75
Boku No SH was a straightforward BL series to divide responses among critics and fans, first released sometime between 1994 and 1995. For some, it was an unnecessarily graphic series presenting men's relationships. Some find it filled with scenes intended to pander to its mostly female heterosexual target audience. Futhermore, its borderline scandalous acts become more thrilling with all the politics and motivation driving the characters to act a certain way.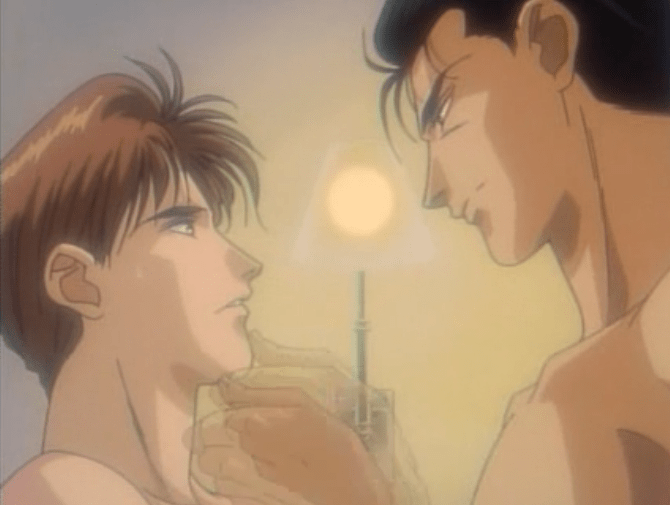 The OVA series of three episodes follows Junya Mochizuki, a young salaryman or office worker in Japan. He receives sexual harassment from his boss, Kazunori Honma, once during his evening work. Although Junya initially claims that he is not gay, he later went with his boss on a hotel room. Honma soon appears waiting for him. They did the deed and it begins their escapades to climb the career ladder by trading sexual favors.
It only escalates from the first time they did it. It later moving into more daring scenes as you watch its three episodes. Admittedly, the storyline is mostly predictable, especially for fans of the genre who are familiar with other works. On the plus side, its classic 90s animation only serves to increase the tension in its intense and passionate scenes.
All in all, it does provide the physical confrontation most fujoshi are looking for in the genre. However, the intensity of the scenes might be too much for some audiences. While the title is actually clickbait-y, its story grounds itself in reality. Sleeping with people in exchange for favors has been usually, negatively, attributed to women, when in fact, it does not discriminate among genders.
12. Papa to Kiss in the Dark
MAL Score: 6.12
Let this be our spoiler warning and disclaimer for you, dear reader: the partners in this OVA are father and son. And their relationship does not stop at being father and son. For people who draw the line somewhere here, feel free to skip this entry and read the next one.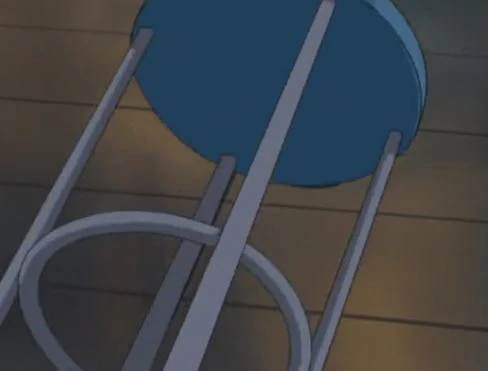 Papa to Kiss follows Munakata Mira, a gay teen in love with his father, the famous actor Munakata Kyousuke. However, the two are secretly lovers. As Mira starts high school, a schoolmate of the same age starts to like him. Meanwhile, his father later marries a famous actress. This actress-slash-new-stepmother has a son from a previous marriage. The son, like almost every other guy in this anime, also falls for Mira.
It was later revealed that Mira, as a child, was sexually abused by Kyousuke. But hold your horses as they are not real father and son, as Kyousuke adopted Mira. But still, it does little to work around the problematic premise of this two-part OVA series. While most fans of the genre will simply shrug it off, it might be a little more challenging for new fans to absorb all at once.
Now that we have given you a bit of what Papa to Kiss in the Dark is, you can go right in knowing what awaits. Aside from the story, the animation is reminiscent of late 1990s or early 2000s. Expect to find character designs bearing visual similarity to some CLAMP works.
13. Togainu no Chi
MAL Score: 6.30
Togainu no Chi is a multimedia franchise. It was originally a Japanese BL visual novel by the Nitroplus subsidiary Nitro+CHiRAL. Since then, it has received its own game on PC and PlayStation 2 and Portable. The series got its own Drama CDs, manga, and an anime series.
Fans generally agree on one thing – the anime is a poor adaptation of the source material. Togainu no Chi delivers a visual treat. However, the storyline flows a lot better in other materials in the franchise. Anyway, it follows the same general plot. A dystopian Japan lost and remained devastated in the third World War. It leaves the Land of the Rising Sun into two parts: the CFC-owned east half and the Nikkouren west. A crime organization controls Tokyo, now known as Toshima.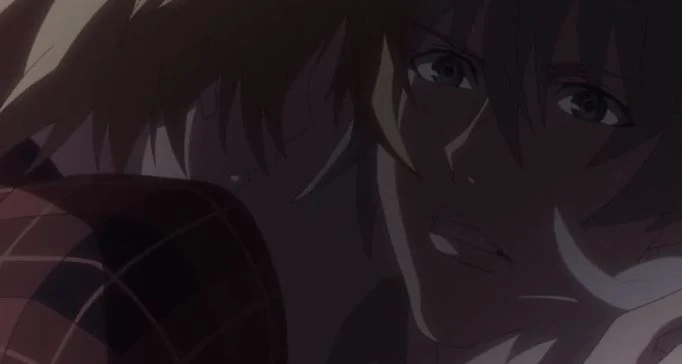 The series follows Akira, a street-fighting champion falsely accused of murder and set for life imprisonment. A company busts him out of prison and gives him the chance to participate in the Igura. It is a battle royale survival match where participants collect dog tags and fight to the death.
While fans and sites widely tag as a BL anime, the anime does not really build up on this part of the premise. It focuses on the struggle to survive and the action of the series. Fans of the other materials found this a bummer because the yaoi overlay above all the violence only serves to root the series in a weird yet relatable way.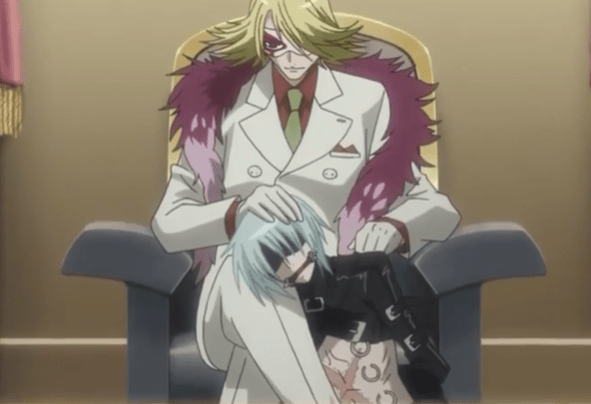 Also, the closest thing to BL you get here is Kau and Arbitro. To spare you from spoilers, they're the Togainu no Chu parallel to Jojo Bizarre Adventure's Vento Aureo, Cioccolata and Secco. However, Kau and Arbitro's backstory is several levels worse.
14. Sekaiichi Hatsukoi (The World's Greatest First Love)
MAL Score: 7.85
For a light-hearted story with realistic and grounded characters and solid development as you go on, few BL anime surpasses Sekaiichi Hatsukoi. Its full title, in English, is "The World's Greatest First Love: The Case of Ritsu Onodera." It also traces its origins as a Shungiku Nakamura work, like two other great entries in this list.
Sekaiichi Hatsukoi follows Ritsu Onodera, a literary editor who decides to leave his father's publishing company because of jealous coworkers who think he does not deserve his position or his stature. He moves to another publishing company, but instead of working at the literature department, he landed in Emerald – the shoujo manga division.
Furthermore, his boss is the obnoxious Masamune Takano, who calls him "useless" to challenge him to stay in the department. Their difficult relationship starts changing after Onodera knows who Takano really is – a man from his past with an agenda toward him. The story moves with Onodera knowing who Takano is, and Takano moving to make Onodera fall for him.
For BL fans who have not watched Sekaiichi Hatsukoi, it is not the usual linear story. It also follows other couples on the side, each with their distinct circumstances and stories. Also, Sekaiichi happens in the same universe as Junjou Romantica, another work by Nakamura-sensei. We haven't seen their MCs cross over to the other series or something. But certainly, fans know about the shared characters. One is Zen Kirishima, first from Junjou then appears in Sekaiichi. Either as a part of a larger Nakamura universe or a series on its own, Sekaiichi Hatsukoi is a great story to follow.
15. Fake
MAL Score: 6.55
One of the most common tropes employed in BL storytelling is a closeted (or open) gay who has secret feelings for a (supposedly) straight guy. They are usually close, or made closer by chance or circumstance and it grows from here. Fake is one such OVA anime, a seven-volume manga turned into a one-hour anime film.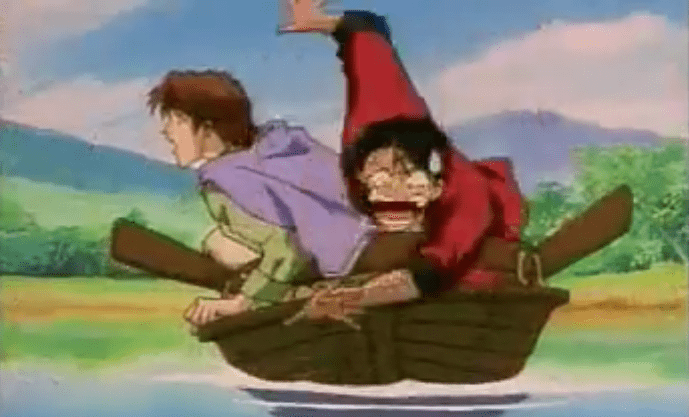 Dee Laytner, a dashing and confident cop in New York Police Department's 27th Precinct, finds himself paired with the half-Japanese Randy "Ryo" Maclean. Dee has developed romantic feelings toward Ryo, with the half-Japanese unsure and awkward about all this. In the OVA, the duo took a break and went to England for a much-needed vacation. Dee, however, has an ulterior motive – advance their relationship to the next level.
Their supposed easy break suddenly transforms into chaos with a series of murders occurring in the hotel they are staying at. All victims are of Japanese descent. Dee and Ryo, as cops, have to investigate the case before the half-Japanese Ryo becomes the next victim. Aside from figuring out the case, both also figure out what they have to do with their feelings for each other.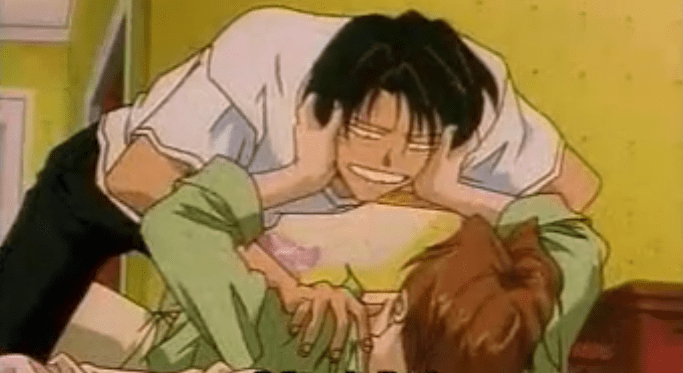 For non-fans of this series, or of the genre in general, Fake is still a nice anime to try. Its 90s animation style (it was released in 2007) is similar to Trigun. Its cop comedy is quite reminiscent of City Hunter, especially Ryo Saeba's tendencies around women. Also, there are other characters to look out for, one of which is Berkeley Rose – another New York cop who will help them in investigating just "to kill time."
16. Junjou Romantica
MAL Score: 7.73
The third work from the prominent Shungiku Nakamura on this list. Junjou Romantica or "Pure-Hearted Romantica" is what it is: a pure-hearted, almost innocent love story between its two main characters Akihiko Usami and Misaki Takahashi.
Akihiko, the seme in the story, is a 27-year-old prolific author of fiction and BL novels. He has a close friend, Takahiro Takahashi, who he loved for a long time. Takahiro, however, never knew and later planned to marry.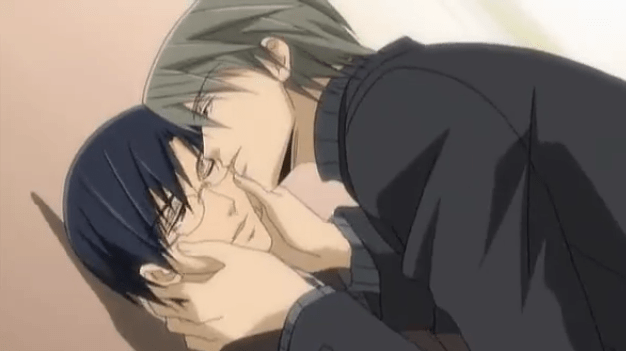 Enter Misaki Takahashi, the uke, an 18-year-old student who wants to enter a prestigious university on behalf of his older brother. Out of desperation, he had to ask Usagi to tutor him. Their relationship starts developing, with Misaki being a tsundere for most of the early episodes. Identifying himself as a straight man, he finds difficulty admitting that he is starting to fall with the handsome, smart, and charismatic Usami.
One particularly riveting part of the series is when Misaki gets angry on behalf of Usami. Knowing that his tutor has been trapped in a unrequited love with his older brother, who remained oblivious of all this, Misaki became upset. It was also at this point that Misaki starts to understand, and realize, that he is starting to fall in love with Usami.
As a series, it has a lot of teasing for the fujoshi fanbase. While they often get intimate- in the morning, under the rain, at evening – their interactions are not the graphic, detailed type that chases non-BL fans away. Most of its best scenes include them facing their fears or simply being honest about how they feel. Also, fans of Sekaiichi Hatsukoi will find treats between the two series.
17. Wei, Kanjian Erduo La!
MAL Score: 7.26
Another donghua that should have taught us by now – fujoshi is a Japanese term but the ladies' fascination with BL is universal. It has a lighter animation style, like Crayon Shin-Chan or something, which unexpectedly works to its favor. Also known as "Hora, Mimi ga Mieteru yo!" in Japanese, or "Look, I Can See Your Ears!" this Chinese-made web series has its pilot running for only three minutes.
It appears to be a mix between Doraemon and Chobits in a BL overlay. A human guy, Da Shu, works as a manhua artist who lives alone with no friends, family, much more a lover. One day, he takes home a kitten soaking in the rain. However, when he gets home, he is surprised that the stray is not actually a cat. Da Shuu finds a cat boy alien sort of creature from another world.
Da Shu's new roommate, named Miao, starts to cause trouble trying to figure out what to do in the new environment. For the loner manhua artist, however, Myou is a welcome addition to his rather boring life – giving his dull life some thrill, and more importantly, purpose.
Wei, Kanjian Erduo La! has virtually no steamy boy to boy scenes. It does, however, have a lot of cute little moments where Da Shu shows his care to the alien cat boy and Myou being all innocent and cuddly-like. While it serves no purpose to debate whether Da Shu is gay or not, everyone can definitely agree that Myou is so lovable. If any readers here are familiar with the fan base around Chii, the female robot lead from Chobits, Miao is the analog from the BL genre. Seriously, look at the ears.
18. Spiritpact
MAL Score: 7.14
Spiritpact (Ling Qi in Chinese) also started out as an online Chinese manhua by author Pingzi, picked up by Tencent for its Tencent Comic. The series later turned into a Japanese dubbed donghua, unfortunately deviating from the plot in the source material. Seriously, when will people understand that departing from the original material rarely works?
Anyway, Spiritpact follows You Keika, a part-time fortune teller and part-time electronic technician. After a fateful encounter with a white-haired man in the city junkyard, he wakes up to find out that he's no longer of this world. He later knows that the man he met that evening was Tanmoku Ki, the 13th Youmeshi of the Tanmoki, the most powerful exorcist clan from China.
Since You is now dead, Ki offers him the titular "Spiritpact" – an agreement that will make You his spirit shadow, bound to serve and protect him. It basically works a lot like Shaman King and their oversouls. Anyway, the duo now face challenges from the spiritual and physical worlds and everything in between.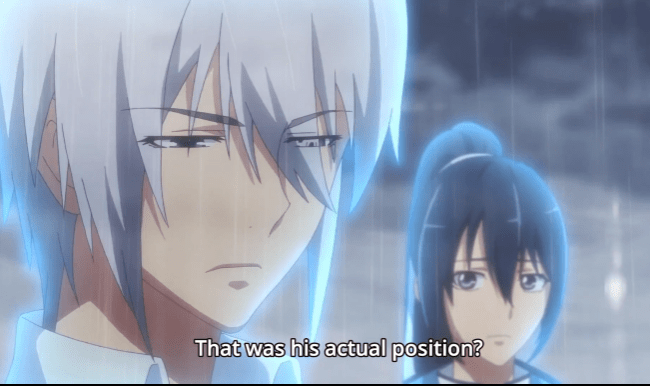 Aside from their master and servant bond, the two started developing feelings for each other. Later in their adventures, the series reveals that You Keika has also descended from a famous exorcist. His lineage allows him to wield the legendary sword Rakugetsu.
It remains a watchable anime, despite leaving parts from the manga. Spiritpact has its moments for comedy and action, with the BL left mostly to the imagination of the audience. The fans' problems with the adaptation might be solved in the following seasons.
19. Fuyu no Semi
MAL Score: 7.56
In the same way men shape their eras, the eras also shape its men. In the context of love stories, we have seen a number of star-crossed lovers brought together, and torn apart, by circumstances. The best example is Shakespeare's Romeo and Juliet, inspiring tragic stories for centuries to come.
But what if the background was the Japanese Bakumatsu era? And the unfortunate lovers are both men, of differing social status and later, on opposite sides of the war. These are some of the questions Fuyu no Semi, or Winter Cicada, will answer. While it was a loose adaptation of Youka Nitta's manga Embracing Love, either property will definitely give you goosebumps.
The three-part OVA follows Touma Kusaka and Keiichirou Akizuki (who looks like a well-fleshed Levi Ackerman), starting as young men in the final years of the Shogunate. They become colleagues who share the same vision and later lovers who share the same bed. We will stop spoiling at this point since the series is an engaging mix of history and tragic romance.
Even the artwork seems aligned with the time period it portrays, with the slightly large shoulders and all and it is filled with snarky remarks and hot BL comments. Case in point, "Light a fire… deep inside me." And we stop at that and leave the rest to the viewers.
Fuyu no Semi makes you feel like a story of this scale deserves a live-action adaptation. The scale of its wars, its attempts to keep historical accuracy, and the costume designs on its beautiful men are definite must-see parts of the series. Their growing relationship was handled professionally, it was not filled with racy scenes except for one incident in the second episode.
20. Yarichin B**ch Club
MAL Score: 6.91
Take a break from sad tragic stories and overtly mature themes. This BL webcomic originally written by Ogeretsu Tanaka builds and illustrates a fujoshi's dream world. Though technically, the series happens in a private all-boys school deep in the mountains. It has that air of exclusivity you see in serious rich-kid anime worlds like Hana Yori Dango.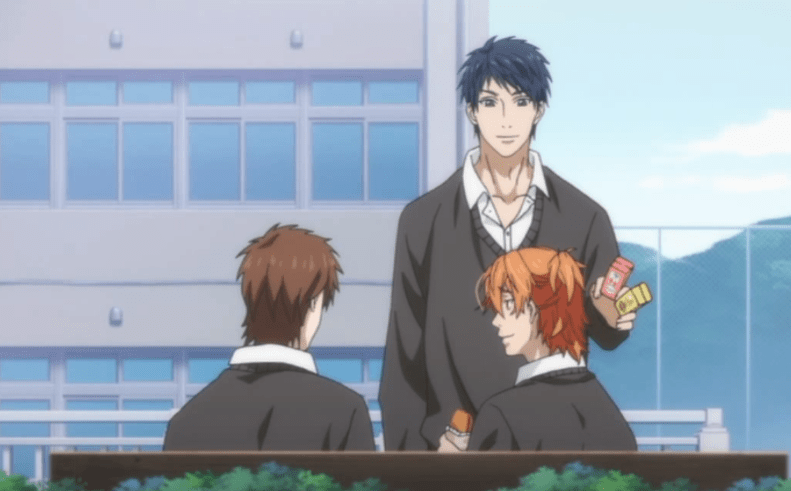 Enter Takashi Tono, a freshman from Tokyo who has moved to Morimori Academy. He soon befriends other students who try to invite him to join sports clubs. Since Takashi is not the sporty-type, he joins the low-profile photography club. However, the photography club is actually a front for something else – the "Yarichin B**ch Club." Together, they offer relief for pent-up feelings and frustrations from their fellow students, at the all-boys school.
It presents Takashi and a fellow transferee who is in the same confusing predicament as he is. The episodes are funny, colorful, and generally light – with the members of the club and their clients having a variety of backgrounds. One reviewer wrote: "If you are a Fujoshi or Fudanshi who are into gay hentai and just wanna see guys doing it this is the anime for you."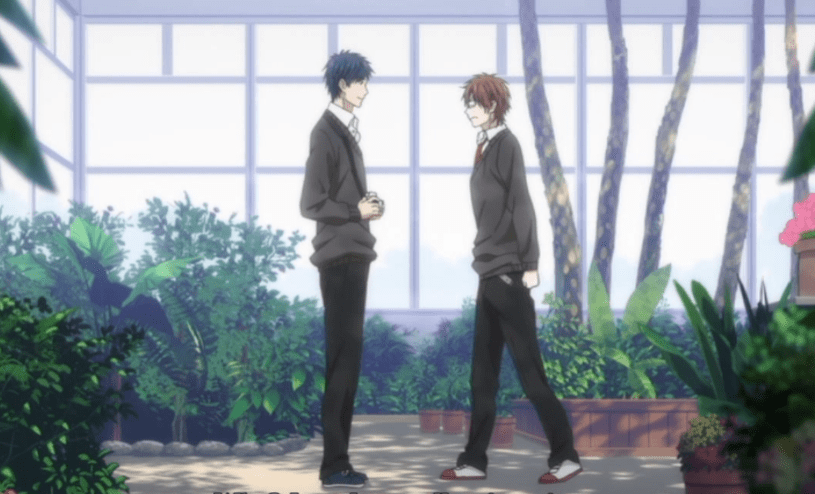 However, it ends in a cliffhanger after its two-part OVA adaptation, almost forcing fans to read the manga it was based on to quench their thirst. It tackles the awkward situation they're in, their awkward crushes and admirers, and the actual effort of the characters to confront their growing emotions. And also, its scenes are borderline hentai-ish, with its censorship coming in the form of shining, glittering shapes.
21. Ai no Kusabi
MAL Score: 7.16 (1992)/ 6.70 (2012)
Dive into an immersive world, with a serious story that will get you riveted to follow it until the end. But first, let us clarify that it has seen two adaptations: the two-episode OVA released in 1992 and its four-episode remake in 2012. Both series have their highs and lows, but one thing makes them tick – the source material that is Rieko Yoshihara's novel series.
Basically, the stories are set in the futuristic world Amoi controlled by a computer. People here are segregated based on the color of their hair. It focuses on an elite "Blondie" named Iason Mink who meets a black-haired "Mongrel" named Riki. Although Riki hates being Iason's "pet," he later learns of the risks with Iason's actions, actually intended to protect him. It leads them to fall for each other.
The 1992 OVA changed a few things from the source material, but manages to bring the conflict and the matured story to the screen. Its not actually advisable for fujoshi looking for a casual gay series as it is so much more – evolving into an actual love story – but without discarding the violent backdrop it was set against.
As for the 2012 remake, it maintains the intensity you can expect from Amoi, but with better graphics and more faithfulness to the source. It was not a shot-by-shot remake but follows the same story. However, with its first four episodes, you know it was building a larger story in a larger world. Unfortunately, it never came to fruition when it was soon canceled, supposedly due to poor performance and lack of budget.
So, yes, you need to see both adaptations. If you still find yourself looking for something, perhaps the novels, which is the source of it all, is the next step to take.
22. Hyperventilation
MAL Score: 6.96
You can always find what you're looking for, if you know where to look. And true enough, we were also able to find this elusive Korean webseries. This six-episode ONA only runs for only 20 minutes or less. However, it does not mean that it's not worth watching. If anything, this was the challenge Hyperventilation masterfully solves as a BL series. What it lacks in world-building or backgrounds, it makes up with its casual storytelling style.
The scene that would start it all. It's just so casual, something you might think can happen to anyone, anytime, anywhere.
This short story begins in winter, when a guy named Myeongyi returns to his high school class' reunion party to see his secret crush Seonho. Naturally shy, Myeongyi finds difficulty having fun with others, sneaking out for a smoke. Seonho follows him and it starts from there.
The animation is simple and light, similar to Dou Kyu Sei (classmate), adding to its casual and slice-of-life storytelling. Its episodic storytelling – where it focuses on seemingly mundane yet important encounters between the two of them – makes you feel like listening to a friend's story. 
However, by the fourth episode, the pacing and the tension immediately ramps up to 11. It is a punch in the gut after getting all comfy with the slow storytelling in the previous episode. Furthermore, its intensity is not geared towards physical interactions, but more on the emotional side. Its tear-jerking scenes merit praise, although it's understandable some people would get lost in all the skipping and flashbacks in the story.
This aesthetic, with light lines and watercolor-ish hues, makes it feel like you're watching someone else's memories.
A six-part story as long as the average anime episode, it's a good BL quick fix for fans looking for a fast-paced story. Also, music fans are in for a treat once they hear Debussy's classic Clair de Lune used to add a layer of life to the scene where it was used.
23. Beryl and Sapphire
MAL Score: 7.60
In the global market dominated by Japanese-made anime and manga, we are now seeing an increase in manhwa (Korean-made) and donghua (Chinese-made) series. Even including works from other genres, it is hard to find a work that can be called an "art series," and Beryl and Sapphire fits the bill.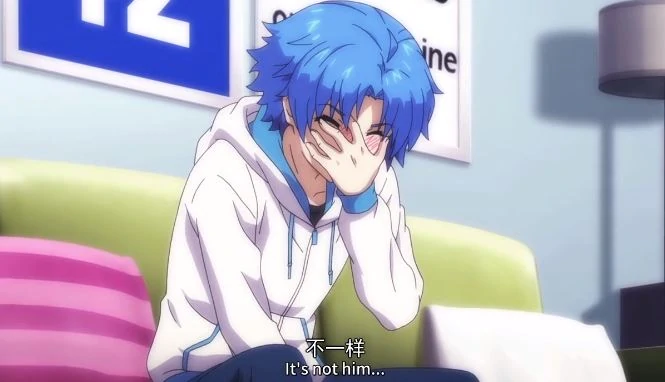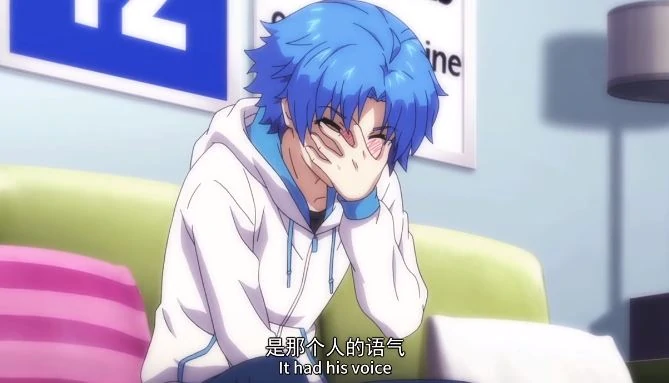 B&S began originally as a manhua (Chinese comics) series written and illustrated by Ocarina. It later became a series from Tencent with 72-episode series. Most of its episodes last for less than 10 minutes each. It is a simple series, with simply-named characters, in a simple plot. How it all works to be a fan-favorite, we will leave up to you.
The shy, quiet, and reserved Beryl sports the green hair. He got his name from a gem often green or blue (but also in other colors). He often butts heads against the aggressive and brash Sapphire, the blue-haired guy named after the blue gem. They portray roles (as themselves) in different settings: sometimes they are allies, and sometimes they are enemies. Nevertheless, each skit offers something interesting. May it be a lesson in life or a step towards these two randomly-named characters realizing how they feel for each other.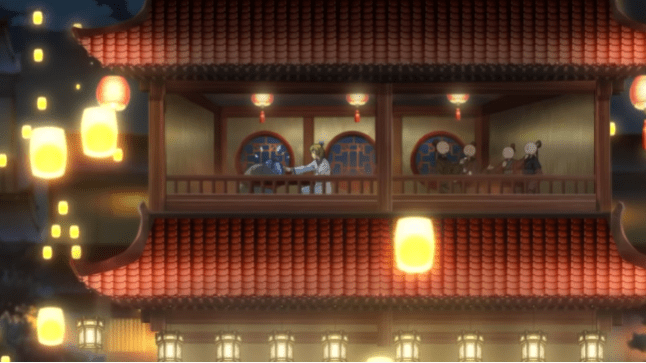 It is not really a long-developing story between the two characters, largely because of its skit/ sitcom format with varying settings. Beryl and Sapphire is, however, a rollercoaster of emotions with its last episode a fitting, and thrilling, end to all fujoshi out there.