Are you an avid anime fan?
Do you soak hours upon hours into your favorite shows?
Do you want to write about anime and get paid for it?
Then we have good news for you!
Chasing Anime is looking for anime writers for our blog!
We have so much information we want to share and not enough time to write it all between the two of us, so we've decided that it's time to bring some writers on board.
Please do not apply unless you are serious in writing about anime and keep up to date or at least keep tabs on new releases.
The Goal of Chasing Anime
Our goal is to get people to pick up anime they didn't know they like so that they feel emotionally inspired and strive to be better versions of themselves.
What this means: We want people who can write engaging articles that spurs users to watch said anime series after reading it.
Humor, lessons and opinions are highly valued.
Writers who wants to write the same rehashed garbage from other blogs need not apply. Also, if I want a summary of an anime series, I simply go to MAL. Why do we need ChasingAnime?
Anime Writer Job Requirements
We Are Currently Searching For Writers Who:
1. Interested to put in the work to make a consistent side income in writing about their passion. It is perfectly acceptable if you have little to no work experience.
2. Clear, relatable, and fun writing, just like how a friend and neighbor would like to share his experience on something he had learnt. (This is a big deal! The less time we have to spend cleaning up your writing, the more assignments we'll give you)
3. Can handle an editing process of communicating back and forth as well as taking constructive criticism from their editor and growing from it
4. Can meet due dates when given. We want people who can commit to writing two to four (2-4) 2,500-word articles per month and do the research that goes into that.
5. Good research skills. You should have a good guess of which anime would be popular each season before the season begins.
6. You are excited and can't wait to jump to the manga after a season ends. You read Reddit, you watch anime, you read manga and light novels.
7. Basic SEO knowledge preferred: Meta description, alt-tags (Please Follow SEOYoast guidelines). It is okay to not have the knowledge; but you must be willing to learn (e.g. google for answers) and attend our onboarding course (estimated half a day of videos and practice)
8. Organized and meticulous. Have a eye for detall and should be able to spot the errors in this job posting.
9. Reply in your email the errors you spotted and start the subject heading as "I am your perfect anime writer"
10. Have an unwavering desire to find out (with research) fan's questions and provide them with the best answer (e.g. Why did Muzan killed Tanjiro's family but spared Nezuko?). 10 points if you know the answer. 
Writing Anime Content – What Is In It For You?
Unlike our competitors (that are more established than us) who expects you to make a difference in the anime community for free, you can expect decent compensation where we can afford it.
We hope that by doing this, you will be more motivated to share our content on social media sites like Reddit and Quora to get more people to watch anime.
Here's a screenshot of our competitor site.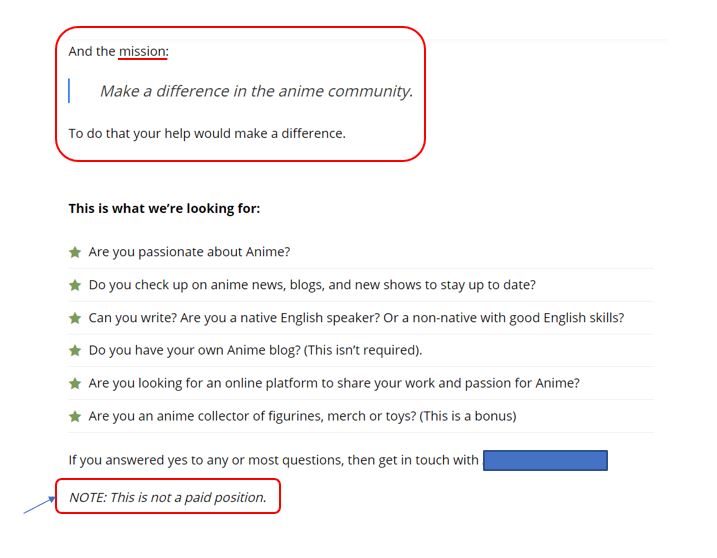 You can expect to be paid 2 cents usd per word which generally comes out to about $100 for articles that we publish.
A good excuse reason and motivation to continue what you have always been doing, and dig deeper.
Learn our secret method in writing quality content that have users yearning for more, fast. This is a skillset you should desire if you are planning to be a better writer.
Challenges of a ChasingAnime Writer
Many writers seemed to think that good content = the best description of an anime. See for yourself. This is in MAL.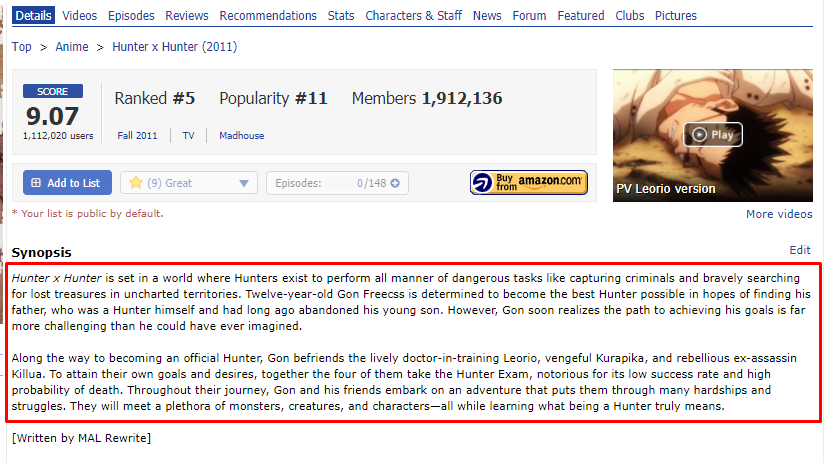 This is a huge mistake that many amateur application makes. We are looking at get more people to watch more anime. What merit is there in describing the whole anime, its arcs and so on? Especially when this info can be found easily on MAL? 
Now, compare that to our hunter x hunter entry in adventure anime.
Which do you prefer, MAL's or Hunter x Hunter's description?
Hopefully this gives you some inspiration to find your own style.
What we want is key highlights of a series, scenes that will resonate with readers, why the reader would enjoy the series and so on. When writing, you can consider to include some of the following:
Entertainment content – Is the article funny or engaging? See if you can do better than our Truck kun article.
Lessons learnt – Is there meaning values to be learnt from the characters? Try and do better than our Shogi Anime article.
Your opinions – This makes your article uniquely yours. We expect a balanced but generally positively opinionated article. We also love this honey's article.
I'm Interested in the Anime Writer Job, What's The Next Step?
1. If you think this dream pet project is for you, tell me why via email. No limit or format. You can write, send me a clip describing or use any media. If you are not sure where to start you can consider the talking points below
Tell me about your anime story – what started anime for you? What drives you to watch? What makes you emotional when watching anime? What impact anime makes on your life? What did you contributed to anime community?
You need not be confined to the questions above and can create your own question. Likewise, ignore questions that are not applicable or meaningful to you – There's no penalty
2. Submit a 2,000+ word article sample about any subject you think would be applicable to Chasing Anime via google doc link in your email to us. Please reread the job requirements and challenges mentioned above before you dive in. We will also be checking if you follow the format of our articles. You can navigate around the site and see which article interests you. All of our article have similar format.
We guarantee that if we choose to use your article for our site, we will pay you for your work. Alternatively, if you have written related articles for other blogs prior that you think fits our criteria, you can choose to send us the link instead.
3. Submit your CV. Include other hobbies, if any.
4. Show me that you have read our articles. Choose any anime blog article on the site and point out any errors. Irrelevant pages e.g. errors in privacy page, contact etc will be ignored.
You can send your entry to me via a link to a google doc to my email chasinganime(at)gmail.com. Replace (at) with @. Please end your email with Sarani Mukou e, Plus Ultra so I know you read my instructions carefully. Include your full name, gender, photo of yourself, blog (if any), social media handles (if any) and your nationality if it is not mentioned.
Plagiarism will not be tolerated and you agree that all works you submit to ChasingAnime are original. In the case of any violation, you agree to reimburse payments made for said plagiarized articles.
P.S. We have overwhelming response due to the above average industry compensation for our writers, and might not be able to reply to all enquiries. We are sorry. We have no plan to decrease our compensation as well. If you successfully followed our instructions and passed, please allow us to put you in the waitlist. We will approach you immediately when there is vacancy available.